How to make a simple Hydrangea Vase Centrepiece
September is a fabulous month for Hydrangeas; they are in peak season and in high demand for weddings, gift bouquets and vase arrangements! These fluffy, cloud looking blooms come in pretty pastel shades of sky blue, soft pink and white or more colourful barbie pink, sea green and bold purples.
Hydrangeas are brilliant flowers to use for vase centre pieces at home, as they look great as the feature flower on their own or combined with other blooms for a softer look. This vase design makes a stylish addition to your home - perfect for a coffee table or centre piece on a dining room table - and super simple to try DIY floral arrangement for flower enthusiasts. If you are looking for online floristry supplies and must - have floral tools to create your own flower arrangements, then The Floristry Supplier has all your essentials available to order direct online for nationwide delivery!
Tips for Hydrangeas
They are thirsty flowers, so keep the vase or container topped up with fresh water daily.
Work with odd number of stems for floral arrangements; 3,5 or 7
Trim the Hydrangea woody stems short before arranging
Arrange on their own or mix with lisianthus, roses or soft greenery.
Low, sturdy vases work well for hydrangea arrangements. Check out our acrylic cube vase which is ideal for multi-use floral designs or best selling flower hat boxes are also fantastic for stylish gifts.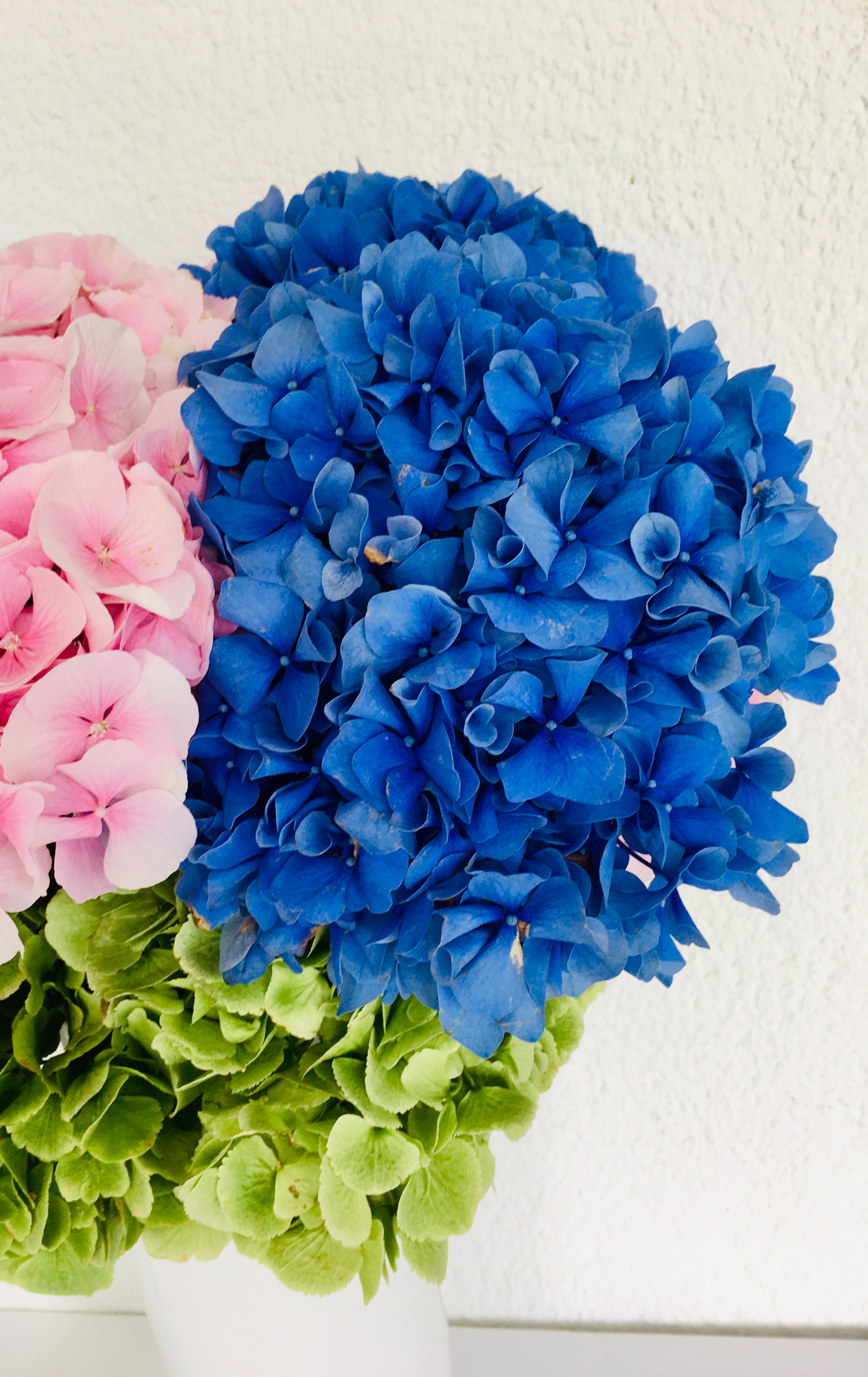 Hydrangea Vase Centrepiece
Ready to try your green finger skills at making your own Hydrangea vase centre piece? Follow the easy steps to create your own stylish Hydrangea flower arrangement at home.
What you need:
Hydrangeas (3, 5 or 7 stems recommended)
Sachet of FloraLife
Secateurs or sharp scissors
Vase
Any additional foliage or flowers
How to make a simple Hydrangea Vase Centrepiece
Fill your clean vase half way with tap water and add a sachet of FloraLife.
Measure your hydrangea stems against the vase, trimming at a 45 degree angle so that the flower head will sit just above the rim of the vase.
Carefully strip any leaves on the stem that will fall below the water line.
Arrange stem by stem in the vase – pop each hydrangea in at an angle, so that the stems will 'criss-cross'. This helps add stability to the floral arrangement and looks pretty if using a clear vase.
Add any foliage or additional flowers if using.
Proudly display!