Jam Jar Sunflower Arrangements
These little (or perhaps that should be big) bundles of joy just make you smile – no wonder they are one of the best selling flowers in August. We are of course talking about the magical and joyful Sunflower! However these flowers have a very short growing season, so get your hands on these beauties whilst you can!
Sunflowers with their large heads, sunshine yellow petals and black seeded centres are striking when used for table centre pieces, vase displays and oh so popular for August weddings. We adore these easy to create at home Sunflower Jam Jars – quirky, fun and rustic looking. Just perfect for summer Tipi tent weddings, little thank you gifts for friends or for stylish home flower arrangements.
Here are the 3 simple steps to making your own Sunflower Jam Jar Arrangement! Need to restock your floristry supplies and tools? Order your floristry supplies direct from The Floristry Supplier, our online shop is full to the brim with must have accessories and essential tools for any florist.
Floristry Supplies and tools you will need:
Clean Jam Jars in assorted sizes
Twine or ribbon
Sunflowers
Foliage & filler flowers
Florist scissors
Paper labels (optional)
Jam Jar Sunflower Arrangement in 3 easy steps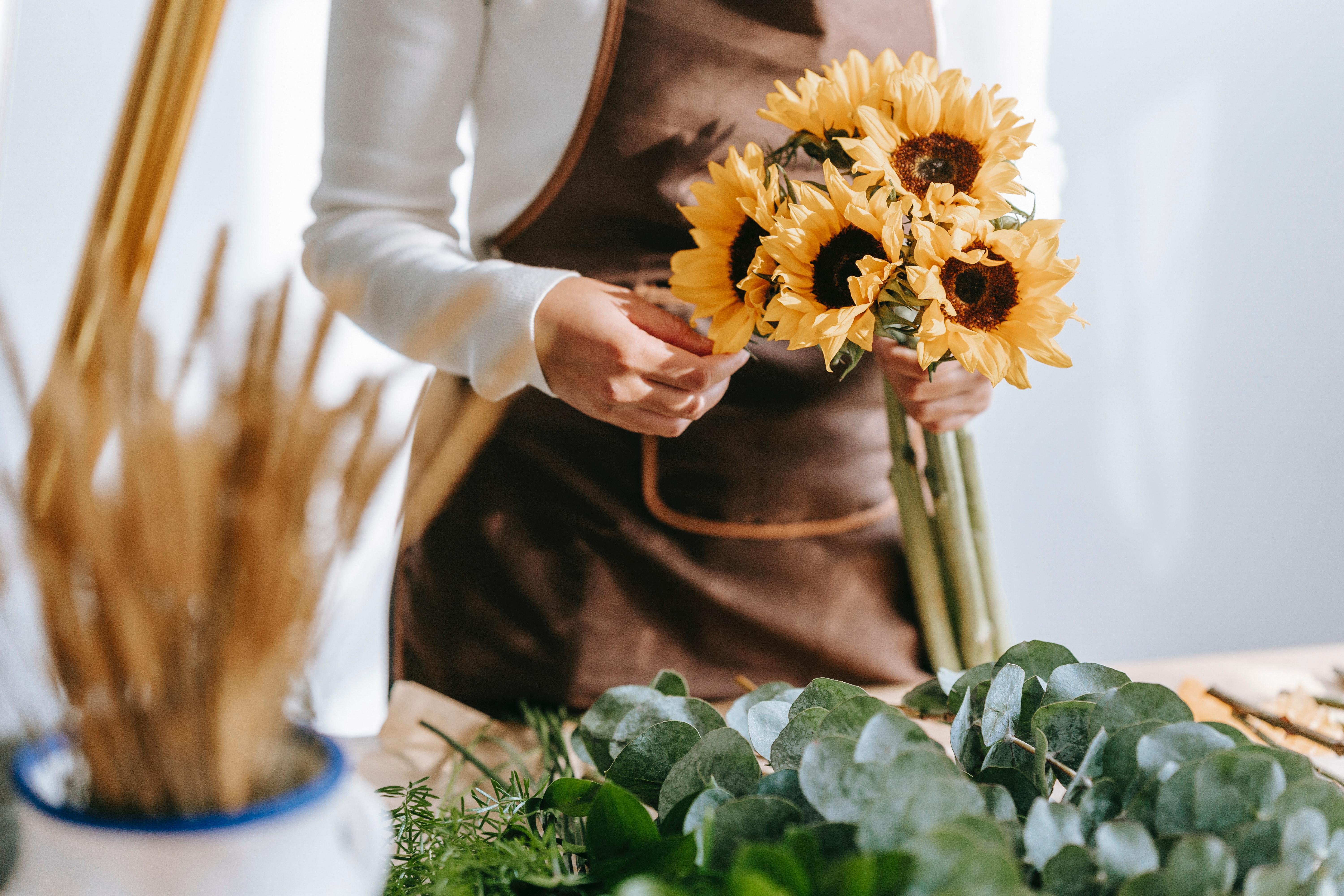 Get your Jam Jars ready
Measure the decorative ribbon or twine around the body or neck of each jar and cut to size – leave an extra couple of inches on the end for the bow. Tie in a pretty bow.
Carefully fill the jam jar ½ way with cool tap water.
Top tip: If these Jam Jars are for gifts, why not add a cute paper label with a handwritten message – just simply thread through the ribbon or twine before tying.
Prepare your flowers & foliage
Hold your sunflower up to the jar and carefully snip the stem so that the head of the sunflower will sit just above the rim of the jar.
Trim your chosen foliage and filler flowers to length, remember to strip any leaves on the stem that will fall under the water line.
Top tip: Need inspiration for foliage and filler flowers to use with sunflowers? Your local florist, flower farm or your own garden will be full of stunning greenery. Try delicate and feathery looking dill, lace flower, ammi, bupleurum, grasses like Lily Grass or Bear Grass, feverfew daisies, bouvardia, salal, gypsophila, leatherleaf and eucalyptus.
Start arranging!
As jam jars don't hold many stems, add the focal sunflower first so you can build up the look.
Next, arrange foliage and filler flowers in the jam jar around the sunflower, keeping the sunflower as 'star of the show'. For a loose and relaxed looked, vary the heights of the foliage and let the leaves fall over the edges.
Your Jam Jar Sunflower Arrangement is now ready!
Top tip: Don't have and jam jars to hand? Food tins, used reed diffuser containers or glass milk bottles can also be great alternatives as mini vases for little flowers.